Shopping Cart
Your Cart is Empty
There was an error with PayPal
Click here to try again
Thank you for your business!
You should be receiving an order confirmation from Paypal shortly.
Exit Shopping Cart
Lunchtime Live with ~*Sister Soldier*~
"Starvation"
Star·va·tion: suffering or death caused by hunger.
In this world we get hungry in our natural body. There is a difference in being hungry and starving. When you are hungry you can wait a while and you can make it until Lunch time, or you can wait until you get home from work to eat. You will not die before you eat if you are just hungry, but when you are starving you body has begun to shut down. Your body begins to demand action take place to bring relief to the starvation. Your body takes over your every thought with the extreme need for food or water. What ever you are starving for. People starve for more than just food or drink. Children are known to show out and even adults are known to show out when they are "starved for attention". They long for attention and will do whatever it takes to get it. Even if it leads to a bad result. There are many things that we hunger for or starve for. It is a deep need in the natural that takes over our thoughts and actions with a driving need.
A few nights ago I was driving for Uber and I had two of the Gator players in the car with that were returning from an out of town game. They were both watching interviews that took place after the game on their phones while I drove. The one in the front seat was having small talk with me then he stopped talking and was listening to a video. It was an interview of one of the players. In the interview the player was talking and he said, "it's not about the game to me. It about what you hunger for, and man I am starving for this." As I processed what he said I said out loud to the young men in the car, "Did he just say I'm starving for this?" One of them young men said yes. My whole brain exploded with revelation and I felt the Holy Ghost wash over me as I drove. I said, "wow... Can you imagine if we felt that was about the spiritual things of God?" Before I knew it I was hearing God's voice roll in the back of my mind and I was saying what I was hearing with no regard to the young men's reaction. Then I stopped. I realized they were both staring at me. I said, "oh, I'm sorry. My brain just exploded with God's voice." The young man in the front seat said, "no that is ok. We are believers." I was so blown away by God's voice in that moment. I was starving for his next work and lost track of who was in the car, the fact that I was at work, that I was driving. I stopped at the destination for the young men and realized that God had just given me a sermon. As they exited my car and we said our goodnights I had to pull to the side and capture what God was saying. I had this urgency in my soul to capture every word. Every thing stopped around me as I was drawn into the view of the Holy Ghost and I felt a hunger for His Words flowing through my mind begin and quickly grow stronger. Then I heard him say "Starvation". "What are you starving for?" In the natural we starve for food, water, attention, affection, Love, fame, power, money, but it should be our spirit man that is starving for the things of God. How many this day and age starve for the presence of God? How many actually long for and have that overwhelming desire for the presence of the Holy ghost, and the thing of Heaven? At times our Spirit man longs for and draws us into the presence of God but we shut it down because of where we are or what is going on around us and who we are with. We don't want to offend anyone. But just like in the car, I was starving for the word that was flowing through my mind from the voice of God. I lost track of who was in the car. The Holy Ghost took over and the words were coming out of my mouth before I realized it. These two young men were believers and one said before exiting the car that he needed to hear that. How many times do we suppress the Spirit of God when He starts flowing? We stop that interaction with the Holy Ghost because we get so caught up in the natural. However, this is the time when we should let His spirit flow through us. Just like the young men int eh car, you never know who you might reach or who might need to hear what he is giving you to say. It's time for us to get hungry for the things of God. It is time for us to go even beyond that to starving for the things of God. We must take our focus off the things of this world and focus on the Things of God. The things of this world are temporal. The bible says in 2 Corinthians 4:18 While we look not at the things which are seen, but at the things which are not seen: for the things which are seen are temporal; but the things which are not seen are eternal. The things of this world are temporary. We must hunger for the eternal. The Bible says in Matthew 5:6 Blessed are they which do hunger and thirst after righteousness: for they shall be filled. Do you want to be filled? Do you want the things of God? Do you want the flow of the Holy Ghost in your life? It is time for us to turn our focus from this world to the things of God. So my question to you is this, "What are you starving for?"
Just food for thought...
Blessings from the desk of:
The ~*Sister Soldier*~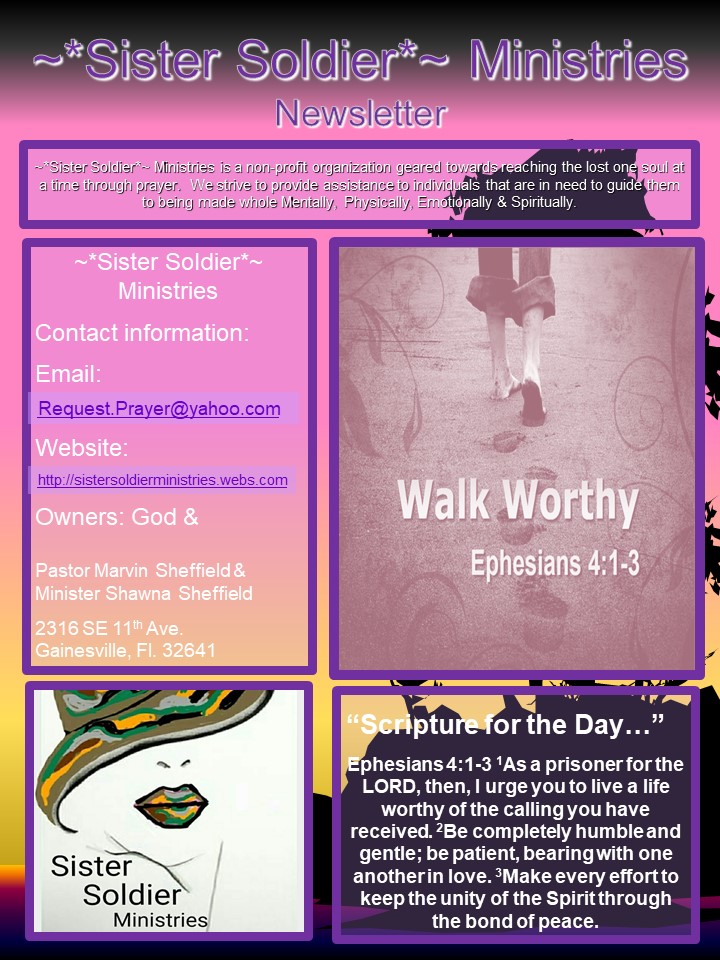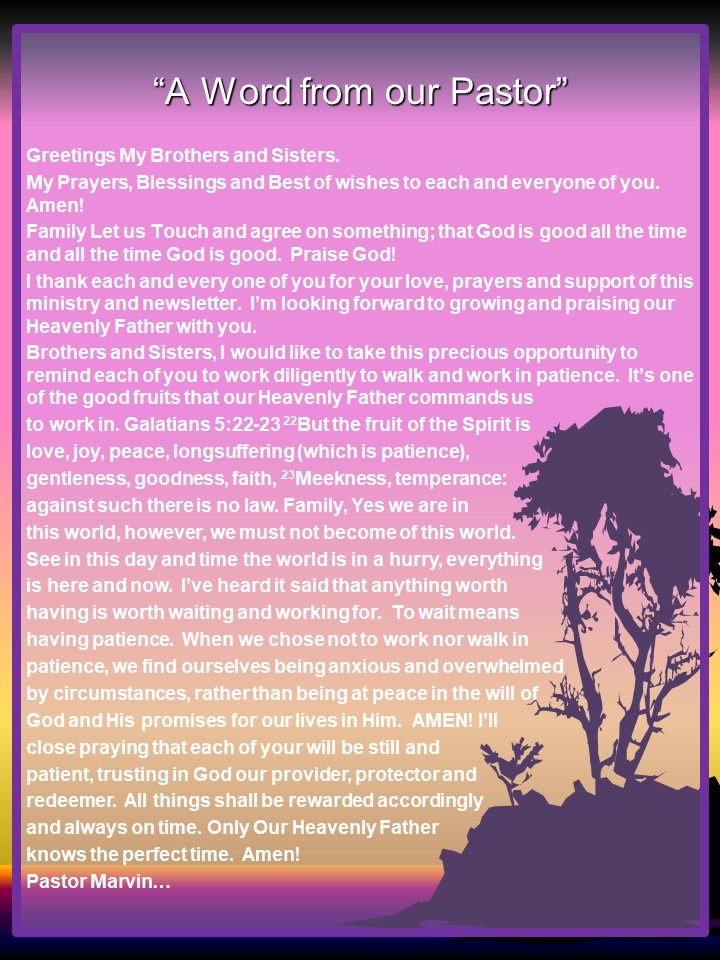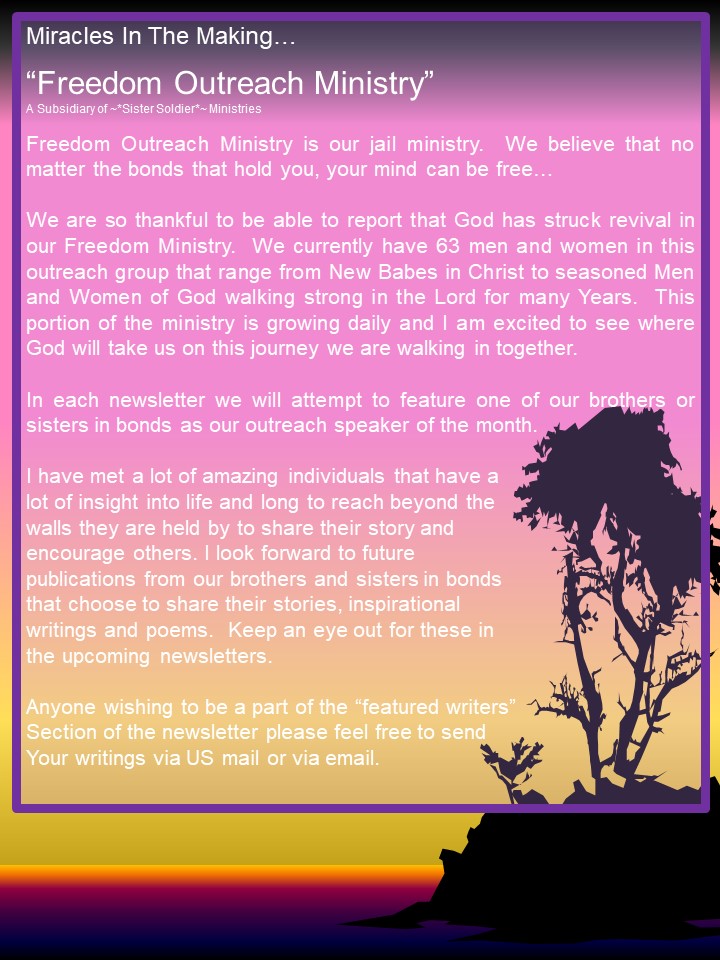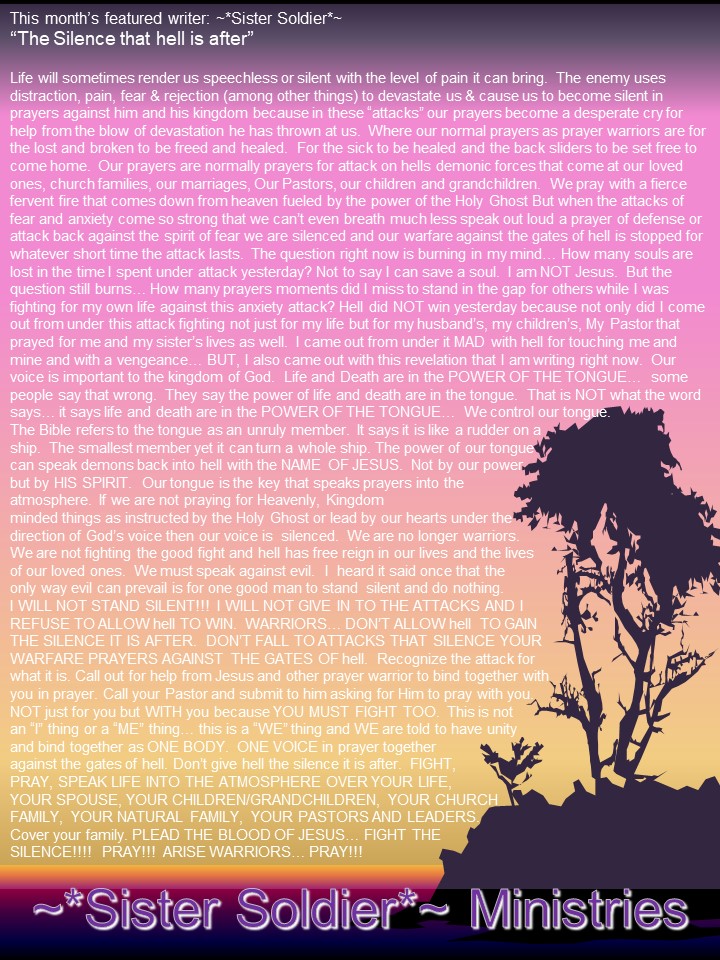 Good Morning My Brothers and Sister in Jesus Christ. I pray this finds you well and strong in our Lord Jesus for HE along is the true source of our strength. First, I would like to take a quick moment to thank each and every one of you for allowing Me, My Husband, Sister Robin and My Daughter-Mashayla to reach out to each of you and be a part of this great calling and commission that God has placed on our lives according to Hebrews 13:3. For each of you have become a great part of my heart and OUR walk with God. So for this, on behalf of the whole ministry, We Thank you.
Now for today's Lunchtime Live with ~*Sister Soldier*~ …
"Ye Shall have POWER"
I am going to start strong from the beginning so put your seat belt on. First, I would like to start by saying that when the devil attacks he will never use anyone that you are not connected to because the ones you are not connected to are not close enough to your heart to have access to the depths of your soul. Therefore, they can't be used to cause the damage that was meant to come to me this week. HOWEVER, the devil doesn't understand (I guess) that my love for the ones close to me runs deeper than anything he can throw at me. This past week I was faced with an attack that came in waves that seemingly crashed down on me like the ocean falling on the shore during a hurricane. It was unexpected, and One phase of this attack stemmed from something that I had no clue had taken place until after it had already happened, and I was indirectly blamed for it happening. The other phases of it were totally unrelated to this first part and they came in the form of communications that were supposed to be "playful" in nature but the spirit behind it was not playful. Now, let me clarify… when I say the spirit behind the communication was not "playful" I am not talking about the people the communications came from, I am talking about the devil that planned this attack and plotted against me to discourage me in what God has called me to do. Ephesians 6:12 12For we wrestle not against flesh and blood, but against principalities, against powers, against the rulers of the darkness of this world, against spiritual wickedness in high places. You see we must remember that when we as children of God are filled with the Holy Ghost and walk with God fully submitted we have power in us that we don't even realize the depths of… We must understand that there is a power that comes with our speech. This scripture says in Proverbs 18:21-24 21Death and life are in the power of the tongue: and they that love it shall eat the fruit thereof. Truly… death and life are in the POWER of the tongue. The POWER… hmmm let's talk about that for a moment… The Bible says in Acts 1:88But ye shall receive power, after that the Holy Ghost is come upon you: and ye shall be witnesses unto me both in Jerusalem, and in all Judaea, and in Samaria, and unto the uttermost part of the earth. This power speaks of being a witness. The Holy Ghost gives us POWER to do all things through Christ Jesus who Strengthens us, but this particular scripture speaks of the POWER of being a witness. To be a witness we must use our words. Our Words hold POWER given to us by God. We must be mindful of every idol word. Every word we shall be held accountable for just as it says in Matthew 12:36-37 36But I tell you that everyone will have to give account on the day of judgment for every empty word they have spoken. 37For by your words you will be acquitted, and by your words you will be condemned." We also see in Ephesians 2:2-3 Wherein in time past ye walked according to the course of this world, according to the prince of the power of the air, the spirit that now worketh in the children of disobedience: Among whom also we all had our conversation in times past in the lusts of our flesh, fulfilling the desires of the flesh and of the mind; and were by nature the children of wrath, even as others. We must understand that we receive what is brought upon us by the good or bad use of our tongues. Those who love to talk, they shall receive either good or evil according to the quality of their words. We must also understand that our words can at times have spirits attached to them. When we are speaking under the direction of God, through the power of the Holy Ghost and we give encouragement or a word of knowledge or prophesy we are allowing the Spirit of God to flow through our words. When we hold idol conversations and sometimes even say hurtful things we are driven by a different spirit. (anger, bitterness, strife, deception, etc.) Our words give these spirits an avenue to be released into the atmosphere. It says in Matthew 26:53, (Jesus Speaking here)53Thinkest thou that I cannot now pray to my Father, and he shall presently give me more than twelve legions of angels? He said He has given us power to do as he did and even more according to John 20:2121Then said Jesus to them again, Peace be unto you: as my Father hath sent me, even so send I you. This scripture tells me that Jesus sent us forth to do as he did. John 14:12, 12Verily, verily, I say unto you, He that believeth on me, the works that I do shall he do also; and greater works than these shall he do; because I go unto my Father. He has given us power after the Holy Ghost has come upon us and here he says that the "works" he does we shall do also and even greater works than these shall we do. Matthew 4:10-11, 10Then saith Jesus unto him, Get thee hence, Satan: for it is written, Thou shalt worship the LORD thy God, and him only shalt thou serve. 11Then the devil leaveth him, and, behold, angels came and ministered unto him. (His words drove satan away.) Also, we see in Mark 1:27, 27And they were all amazed, insomuch that they questioned among themselves, saying, What thing is this? what new doctrine is this? for with authority commandeth he even the unclean spirits, and they do obey him. (A command requires a spoken word.) Luke 4:35. 35And Jesus rebuked him, saying, Hold thy peace, and come out of him. And when the devil had thrown him in the midst, he came out of him, and hurt him not. (A rebuke requires a spoken word.) Ps. 91:11 11For he shall give his angels charge over thee, to keep thee in all thy ways. (God commands his angels concerning us to guard us in all our ways. A command requires a spoken word.) So according to what I read here in the scriptures … If Jesus can call down twelve legions of angels, and He has filled us with HIS Spirit then by that POWER we can as well according to John 14:12 & John 20:21. The POWER of our words Open doors for Angels to move just as POWER of our words cast out demons. Even satan himself is driven by our commands. He has no power in our life unless we give it to him and how do we do that? With our confessions… our WORDS.
Our words when they are spoken in the power of the Holy Ghost become an avenue for God's spirit to flow. However, we must remember that our words when spoken in the flesh or driven by "other" spirits can become an avenue for evil to flow into someone's life as well. This is why we MUST mind our words. Remember this… satan is the ruler of the air. Our words go out into the air (spoken or written) and birth out life or death. This means either we are releasing love and strength or death and demons. We have POWER in our words and angels are moved by our words into action but so are demons. Demons are fallen angels. Therefore, if our words move the heavenly angels they also move demons just like when the disciples cast out demons. Their words had power over the demons. When we speak, or even write emails or texts they go out over the airways just like TV and radio. The internet is run over the airways. Well we know from scriptures that satan is the prince of the airways. Therefore, we must mind our words. When you are called to be a Preacher, Teacher, Prophet, Singer, Mentor, Minister in any aspect or Prayer Warrior not matter your rank in this army, Please remember that your words hold power to command demons to go and angels to move. Your words WILL bring life or death. Therefore, we must be mindful of our words and how we use them. We are to be held accountable of every word we speak. That is how important God thinks our words are. We must also be mindful of the spirit in which our words are spoken or written. I have always been told it is not what you say but how you say it that sets the atmosphere of your encounters. We are driven at times by our emotions. Anger, Fear, Love, Happiness… etc. These emotions are sometimes driven or provoked by spirits that try to influence our reactions, behaviors and demeanor. If you have a negative attitude or feeling over your heart and you try to write a letter or speak to a person in person that spirit that is over your heart at the time will be conveyed. Whether we mean for it to or not because our words have power. They open a door for good or bad, life or death to be released. Not just in what we say but in what spirit we say them. For example, I can say "Good Morning" with a sweet voice and a smile on my face with a warm spirit about myself and you can feel the love flow from me. OR I can say "Good Morning" with an ugly look on my face, not making eye contact and a rough voice and it will make you step back from me and say wow, what's wrong with you? Because you can feel the negative spirit coming from me. Either way I have said "Good Morning" but one came with a spirit of life and one came with a spirit of death attached. It's just that simple. We either become a conduit for good or evil. It's our choice. This is why prayer and fasting are so important. They are not just lip service, they are vital parts of our daily walk in this world that is not our home. We must be open to hear God's voice so we can discern the spirits that are tempting us and at times walking with us. We must recognize our own fleshly voice from a voice coming from us driven by a spirit other than the Spirit of the Living God. In our walk we will hear three voices… The voice of God, Our own voice and the voice of our enemy the devil and his agents. WE must draw near to God so that when these voices come we will KNOW the voice of OUR FATHER IN HEAVEN above even our own voice. We are called to reach the lost. We must speak life. If we are speaking anything other than life we have become part of the problem. We are called to be peacekeepers. This requires words of peace and the Spirit of God to be allowed to flow through us. We must mind our words. We must be careful of the power we unleash in our own life and the lives of others. During the events of last week, I also was reminded of the importance of putting on the whole armor of God. The shield of faith that blocks the fiery darts of the enemy. Ephesians 6:16 Above all, taking the shield of faith, wherewith ye shall be able to quench all the fiery darts of the wicked. These fiery darts can be and most times are words by the way… So, with that being said, I will say this. I bless you in the name or our Lord Jesus Christ. May the blessings of the Lord be upon you. May our Lord bless and keep you always. May He cause His face to shine upon you and guide each of us as we go forth as ambassador of Heaven to reach the lost and speak life to one another. May his hand guide our steps and direction in this journey we are on. Peace be unto you all and Joy forevermore. Please know that this is written Sincerely in the Love of Christ, with a humble heart, gained from experiences where I have had to apologize for my own words in part of this week's attack. My reaction was not always what it should have been because some of it came from a place of pain. I am the first to admit when I am wrong, but God in his great mercy and grace always teaches me a lesson that I can grow from and share to hopefully help others to grow from as well. If my pain can be the stepping stone for others to never feel this way, then I count it all joy.
Love and peace from the desk of:
~*Sister Soldier*~
This past year, 2014, was an amazing year for Sister Soldier Ministries. In the last month of the year I finished a book entitled "Revelations of Warfare" and I am in the process of publication. I am so thankful for the inspiration of our Lord in my life that allowed me to be able to write this book.
During 2014, I was also blessed to meet many new people doing outreach to the prison systems and in the street ministry. Our Lord Jesus has truly enriched my life with the people that He has allowed to come into my life. I have been reaching out to individuals that have found themselves in Prison or jail situations and God has truly worked miracles. One gentleman that I was able to minister to though the outreach material from Sister Soldier, namely "Heart Attack" has now been released from incarceration and has come to live in a home that is sponsored by my Church, United Pentecostal Church of Gainesville, Fl. The house is called the "Wells house". It is a house that helps men coming out of prison or jail transition back into society. I have had a burden for the men that come through this house and I pray for them often. God placed on my heart years ago to one day open a house similar to the Wells house but for women. Just at the end of 2014 He opened up an opportunity for me to purchase a house to use for this purpose. We are in the paperwork stage of getting the house into my name and placed under the covering of ~*Sister Soldier*~ Ministries so it can be classified as a non-profit organization. This is truly an exciting time for me. I see God working so quickly on this project and I am overwhelmed with joy that He has allowed me to see this vision he gave me years ago finally coming to fruition.
Please be in continued prayer for our ministry and for this new house. God has spoken a name for this house into my spirit so therefore the house will be called "Women at the Well"... Please continue to pray for God to speak his revelation into my heart and for me to be able to put it into words to share as outreach material.
/